GMA and UNFPA donates medical equipment to Ukraine
Agreement with UNFPA - Ukraine
Image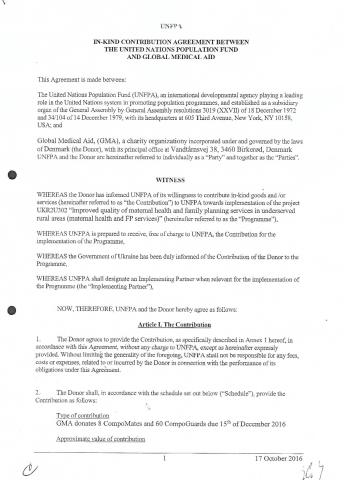 "Global Medical Aid" and "Vingmed" company donate to Ukraine 27 sets of equipment for blood banking and processing – Ministry of Healthcare, donors
Image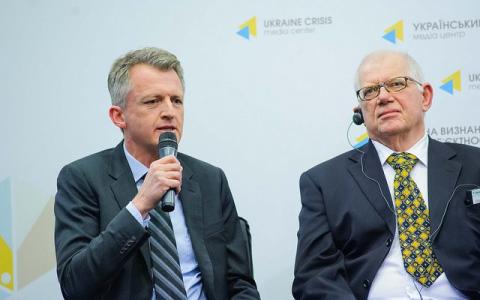 International charity fund "Global Medical Aid" and Dutch company "Vingmed" donated to Ukraine up-to-date equipment for blood banking and processing of a value of more than EUR 790 thousand. "Within this donation almost all Ukrainian regions will receive high-quality equipment in order to collect and process blood in compliance with quality standards. […] We would like to reach the European level of quality, to ensure blood collection planning, banking of high-quality blood and appropriate management in order to make international quality standards available to Ukrainians," said Natalia Piven, acting head of Public Health Department of the Ministry of Healthcare of Ukraine at a press-briefing at Ukraine Crisis Media Center.
Ukraine will receive 27 sets of equipment. They will be passed to medical facilities of regional level and to several cities.
"Ukraine is a European country, and just now it is in a very special and difficult situation, and, of course, you should help your neighbor in need. I hope that this donation would be an example not only for European charity organizations, but for all organizations and countries," noted Hans Frederick Didensborh, president of the International Charity Fund "Global Medical Aid".
Nils Frandsen, CEO and owner of company "Vingmed" and Bogdan Pidverbetskyy, program advisor of the UN Population Fund in Ukraine expressed hope that the donation will be a useful contribution to improve blood service in Ukraine.
This equipment is a very valuable gift as it will support implementation of blood service development framework, said the Ministry of Healthcare representatives. "We will have opportunity to collect standard doses, to extend the list of available blood components […], and to make high quality blood components more available to our patients," noted Lyudmila Zanevska, chief doctor of Kyiv Blood Center.
Mr. Didensborh mentioned that since 2015 "Global Medical Aid" has donated to Ukrainian charity organizations, Ministry of Health and Ministry of Defense medical equipment of a total value of more than EUR 25 million.
Article from UNFPA- Nordic
Medical Equipment Donated from the Danish ngo Global Medical aid (gma) and Unfpa to Ukraine
Haemorrhage or heavy and uncontrolled bleeding is one of the serious complications that can be life threatening for pregnant women. It is therefore vital to have access to a safe blood transfusion. But around the world, many hospitals lack adequate clinical equipment for collecting, fractionating and storing donated blood, resulting in maternal deaths which otherwise could have been averted. At the same time, in countries like Denmark, still functioning equipment is being replaced with even newer equipment.
The Danish surgical and medical company Vingmed Danmark A/S, the Danish NGO Global Medical Aid (GMA) and the UNFPA, the United Nations Population Fund have collaborated to put such replaced equipment to new, good use.
In Ukraine, the maternal mortality rate is high by European standards; in 2015 the maternal mortality ratio in Ukraine were 24 deaths per 100,000 live births, the same figure in Denmark was 6 maternal deaths per 100,000 live births.
Last week, the President of Global Medical Aid, Hans Frederik Dydensborg, the Executive Director and owner of Vingmed Danmark A/S, Niels Frandsen and the SRH Programme Officer of UNFPA Ukraine, Bohdan Pidverbetskyy took part in the handover of the 8 refurbished blood fractionation machines and 65 refurbished blood collection mixers to the Public Health Department of the Ministry of Health of Ukraine.
The equipment had been in use for three years, but is expected to last for up to 10 years or more. The original value was DKK 3.5 million (USD 530,000).
Natalia Piven, Head of Public Health Department at the Ministry of Health of Ukraine said that "Taking into account the obsolete and run out equipment in the regional blood centres in Ukraine, this aid is much needed. This equipment will provide the opportunity to get blood that is of high quality and safe."
Global Medical Aid collects discarded yet functional medicine and equipment from Danish hospitals and pharmaceutical companies for the benefit of low income countries. Since 2010, GMA has donated equipment for a value of more than USD 20 million to a number of countries primarily in Asia and sub-Saharan Africa.
Image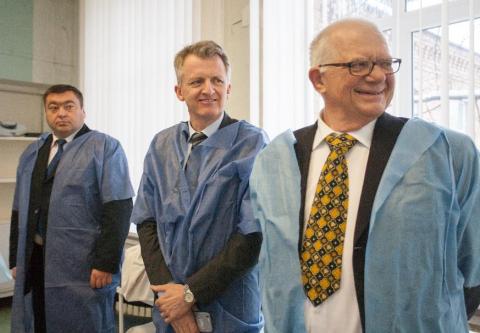 For further information;
Read more about Vingmed Danmark A/S here.
Read more about the GMA here.
Read more about UNFPA Ukraine here.
Letter of 3.April 2017 from Ministry of health - Ukraine
Image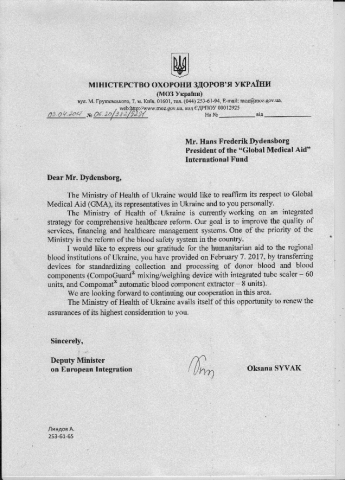 Safe blood components and medicines. What equipment is missing. UCMC, 7.02.2017
Donation of 8 blood fractionation machines and 65 refurbished blood collection mixers
http://1tv.com.ua/news/87193
http://podrobnosti.ua/news-release-list/2017/2/8/7/0/