Ghana's Ambassador to Denmark Secures Donation of Medicines Worth over $500,000 to Wenchi Methodist Hospital and Others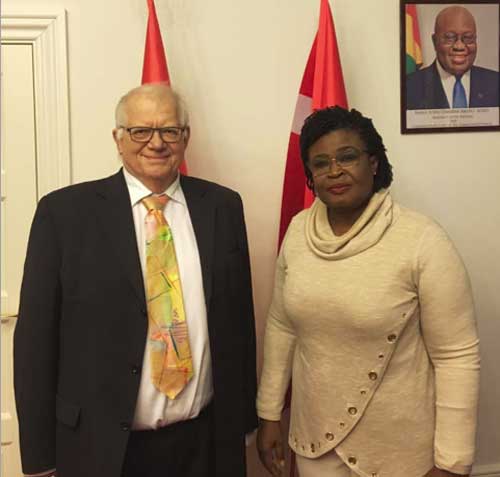 Ghana's Ambassador to Denmark Secures Donation of Medicines Worth over $500,000 to Wenchi Methodist Hospital and Others
The untiring efforts of Ghana's Ambassador to Denmark, H.E. Mrs Amerley Ollennu Awua-Asamoa has yielded an impressive result.
Through her initiative and engagements, the Ambassador has been able to persuade a Danish NGO, Global Medical Aid, to donate assorted medicines worth more than half a million dollars to the Wenchi Methodist Hospital in the Brong Ahafo Region as well as other hospitals. The medicines are mainly for psychiatric treatments and are mostly not covered by the National Health Insurance Scheme (NHIS) to help cater for needy patients. They include Psychiatric, anti-cancer, anti-retroviral and asthmatic drugs, analgesics (pain relievers) and anti-hypertension and anti-coagulant drugs. Mr. Hans Frederik Dydensborg, the head of Global Medical Aid, put the value of the medicines donated at over 517,000 US Dollars and are to be provided for needy patients especially those with psychiatric conditions free of charge.
Global Medical Aid, a Danish humanitarian NGO, was established to support developing nations with medicines and functional hospital equipment. The NGO collaborates with pharmaceutical companies, hospitals and healthcare companies in developed nations such as Denmark to get its supplies to support developing countries.
Speaking to the media after the presentation, the Urologist and Medical Director of the Wenchi Methodist Hospital, Dr. Boateng Bosomtwi was full of praise for H.E. Ambassador Amerley Ollennu Awua-Asamoa for her efforts in getting the medicines donated to the hospital. He also thanked the Danish NGO for the timely assistance and went on to say that the drugs, particularly the psychiatric medicines, are essential to the hospital's effective healthcare delivery. According to him, the free psychiatric medications is a welcome relief as it will enhance the care for psychiatric patients at the hospital since many of them (psychiatric patients) come from poor backgrounds and as such cannot afford the drugs. Given the large quantity of the medicines, they are to be shared with a number of other hospitals to enable their patients also benefit from the free medications. The other beneficiary hospitals include Accra Psychiatric Hospital, Komfo Anokye Teaching Hospital, Techiman Holy Family Hospital, Goaso Government Hospital among others.
Ghana's Ambassador to Denmark Secures Donation of Medicines Worth over $500,000 to Wenchi Methodist Hospital and OthersThe nurse in-charge of the psychiatric unit of the Wenchi Methodist Hospital, Mr. Simon Djakwa, said the unit attended to 960 mental health cases last year. According to him, epilepsy topped the list with 400 cases, while psychosis was second with 150 cases. Others were dementia, depression, anxiety and sleeping disorders. He said the unit has been depending on the hospital and the Christian Health Association of Ghana (CHAG) for supply of drugs to treat the patients due to the inability of the families of many of the patients to purchase the psychiatric drugs, thereby making the treatment of such cases very challenging. Mental healthcare in Ghana, just as in most developing countries, is a serious challenge. According to a recent BBC report, quoting the World Health Organisation (WHO), low-income countries only spend about 0.5 % their health budget on mental healthcare. Thus there is serious lack of personnel, equipment and drugs for mental health patients. In Ghana, there is one psychiatrist for every 1.2 million people beside the lack of enough facilities and drugs. This has led to widespread prayer camps that 'treat' mental patients in very inhumane conditions. As such, such support from Global Medical Aid is very much welcomed to help ease the problems in the mental healthcare.
Beyond investors, H.E. Ambassador Amerley Ollennu Awua-Asamoa intends to continue to engage to seek support and assistance from similar organisations in Denmark to help bring relief to needy areas in Ghana. She urged Ghanaian diasporans to also use their networks and connections in their respective countries of residence to help seek investments and support for deprived communities in Ghana to complement government's efforts.